Welcome. If you are familiar with this horrible condition and simply looking for pain relief, please skip this overview section and scroll down to Treating Occipital Neuralgia At Home where you will discover the most effective and inexpensive type of neck massager for tension headaches. It's excellent for relieving tension, pain, and headaches quickly. Occipital neuralgia massage works wonders for us.

If you're not familiar with Occipital neuralgia, it is a condition that causes chronic, throbbing pain in the back of the head, behind the eyes, and in the upper neck. The condition is often misdiagnosed as tension headaches or migraines, leading people to attempt different treatments with little success. Until the condition is correctly diagnosed, it is challenging to relieve the pain and can cause many people to suffer needlessly. One of the most effective and convenient treatment options we have for persistent occipital neuralgia pain is self-massage. Occipital neuralgia massage performed daily can often bring quick and substantial relief, in addition, regular self-massage has the priceless benefit of helping to prevent flare-ups.
Occipital Neuralgia Nerve Anatomy
Common Symptoms of Occipital Neuralgia
The most obvious symptom of occipital neuralgia is pain. The pain tends to begin in the upper neck area and radiates over the back, side, and top of the head to the eyebrows and often behind the eyes. It is described as a cycle of pain that begins with a spasm or electrical shock-type sensation, followed by pain and another spasm. Most sufferers describe it as a throbbing, constant pain that they can find little relief from. This pain is hard to alleviate with over-the-counter pain relievers, although some find a marginal degree of success, relying on OTC's can lead to overuse and dependency. This is where occipital neuralgia massage can help deliver on-demand relief when you need it and an inexpensive neck massager for tension headaches can do the trick.
Occipital neuralgia affects the nerves and makes them inflamed and sensitive. This means even the scalp can be more sensitive, and something as simple as hair brushing can cause someone with this condition pain. Sensitivity to light during bouts of pain (and between them) is often reported, but they're not generally a trigger. The headaches are debilitating, random, and long-lasting.
Possible Causes of Occipital Neuralgia
Many things could cause or contribute to occipital neuralgia. Almost all of the time, the condition is caused by an injury or the inflammation of the occipital nerves. This injury can be caused by a blow to the back of the head or any other sort of trauma, and the development of this condition is pretty common in whiplash patients.
Occipital neuralgia may also be triggered by overly tight neck muscles or nerve compression caused by osteoarthritis or even tumors (don't panic, these are very, very rare) localized in and around the area. Occipital neuralgia may also result from inflammation or infection. Patients with gout, diabetes, or vasculitis may also have a higher instance of developing this condition. Text neck symptoms can also lead to this condition.
Stress on the occipital nerves can also contribute to this debilitating condition. People who have poor head and neck posture like down or forward are likely to have more pressure on those nerves and are at a high risk of developing this condition. So how do we treat it at home? The only good thing about bad posture is that we can correct it instantly.
Occipital Neuralgia Massage At Home

If you are suffering from this condition, you will already know that a massage in the right place at the right time, can dramatically reduce pain and make a huge difference. If you haven't yet tried or considered daily massage for pain relief and prevention, please read on. The number one advantage of having a neck massager at home is that you can use it every day to prevent your neck and shoulder muscles from becoming tense and tight, which can do an excellent job at keeping occipital neuralgia episodes at bay. If you're experiencing a flare-up, a targeted massage combined with some cold or hot therapy can work wonders at calming the occipital nerves and reducing pain.

So which occipital neuralgia massager do we recommend? We found the design of the wrap-around massagers really packs a punch when it comes to pain relief and prevention. The great news is that these invaluable devices have plummeted in price in the last few years; some highly effective massagers can cost as little as 10 takeaway coffees. The recommended neck massager for tension headaches below is a fantastic, low-cost example.

We have found the two most effective exercises to perform when using the massager are the simple chin tuck and side stretches. Keep it simple. You should be performing these two effective exercises throughout the day anyway, but when you combine them with the neck massager it can feel like magic.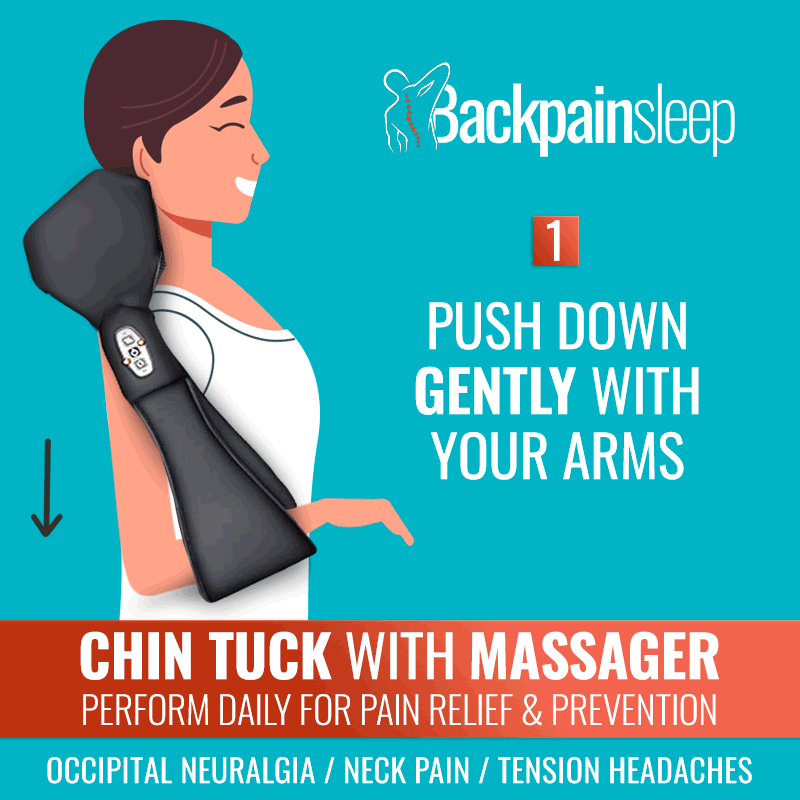 The Best Occipital Neuralgia Massagers
OCCIPITAL SHIATSU / NECK & SHOULDER
An excellent massager, perfect for:
✅ OCCIPITAL NEURALGIA
✅ RELIEVING NECK / SHOULDER PAIN
✅ TENSION HEADACHES
✅ CAN BE USED ALL OVER THE BODY
✅ PERFECT THERAPY BEFORE SLEEP
Wrap-Around Massager with Arm Slings
This simple, elegant, and effective neck massager for tension headaches is our go-to massager for helping to reduce occipital neuralgia pain; it's the closest we've found to feeling almost human. If you click the image above, you will see a pretty accurate video loop of how this actually feels… pretty darn amazing… and that's just two thumbs.

The occipital neuralgia massage device we use has 8 thumbs (massage nodes) that change direction every minute to maximize the massage effect, you also have the ability to change them manually. Selecting between the three-speed intensities is also a breeze so you can completely focus on those pain points, and with added heat function, blood circulation is getting a boost, which can help reduce inflammation. But, it's the integrated arm slings on this brilliant device that make it stand out as an occipital neuralgia massager for us. Want to go a little deeper in a certain area? Just push down a little in the arm slings and you have it… the exact pressure you want, in the area you need it. Once you've applied that little pressure and found relief… let those shoulders relax and release… and sink into the experience, letting the massager do its work. Wonderful.

Yes, this neck and shoulder massager is an excellent, incredibly affordable, and very reliable way of melting away occipital neuralgia pain by targeting and relieving muscle tension in your neck, trapezius, and shoulders, but it can also be used on the upper & lower back, waist, legs, and feet. A lot of bang for very little bucks.

One excellent tip for getting a great release with an occipital neuralgia massage is to perform chin-tucks and gentle neck rotations whilst using the massager; that slight stretch of the neck muscles combined with the shiatsu massage can feel like heaven when you're in a lot of pain. We can't recommend this inexpensive and effective type of massager highly enough as a tool for finding relief from occipital neuralgia at home. The amazon links we provide are automatically updated every day to deliver the lowest price for the device, with zero additional cost to you.
The incredible importantance of your pillow
We repeat this often… because changing your pillow could be the single most important thing you can do that could have a dramatic effect on your pain, read about a fantastic pillow we use for occipital neuralgia here. If you've successfully eased your pain with the massager, why would you then place your head and neck on a pillow that doesn't support them correctly… undoing all the good massage work? You are very likely going to be waking in pain and discomfort every single day and it will literally feel like you're banging your head against a brick wall.

This can't be over emphasized, which is why we ask you to please consider this question. When the massager has provided pain relief and your neck and shoulders feel wonderfully relaxed… how do you think you're going to feel in the morning if you've slept on a pillow that's supported them correctly throughout the night? You're going to wake with a superb shot at having a great, pain-free day.

If we could only recommend two products (and we generally do) it would be a change of pillow and a neck massager for tension headaches, in that order. Two inexpensive products that can really make a difference to living life with occipital neuralgia.
THERAPEUTICA ORTHOPEDIC PILLOW
Our pillow of choice for Occipital Neuralgia
✅ OCCIPITAL NEURALGIA
✅ NECK / SHOULDER PAIN
✅ TENSION HEADACHES
✅ PERFECT FOR SIDE-SLEEPERS
✅ NON-ALLERGENIC / NON-TOXIC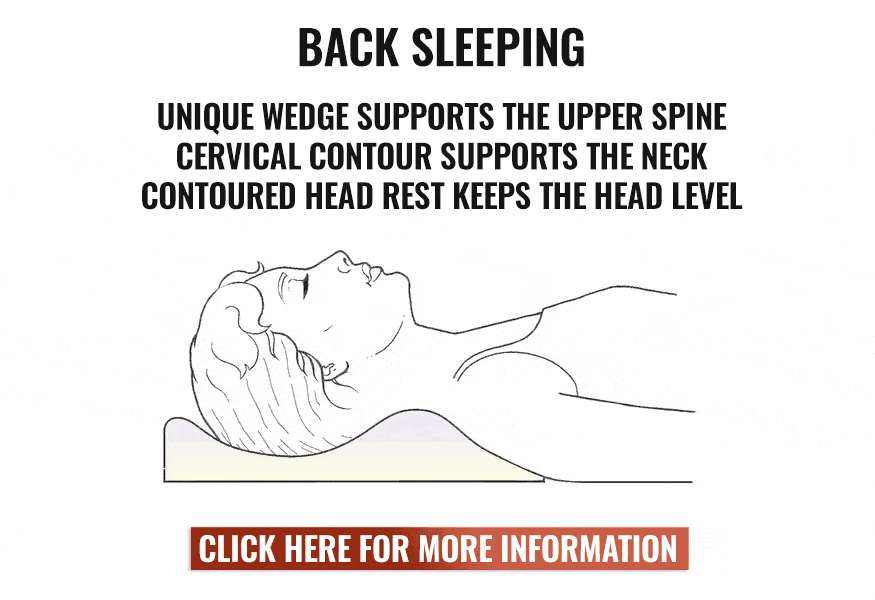 There are alternative pillow recommendations for those who prefer a slightly shallower contour or are side sleepers. Our best-rated pillows below are superb for neck pain in general and great for tension headaches. We use both solid and shredded adjustable pillows as we like to have a little more freedom of movement when occipital flare-ups are under control. There are many variations of the shallower contour pillow available, this is a great starting point.

Update** We've been reviewing adjustable pillows, read why you need one here.
Title
🏆 BEST ADJUSTABLE 🏆
UBBE HYBRID+
🏆 BEST CONTOUR 🏆
ZAMAT CONTOUR
🏆 BEST SIDE SLEEPER 🏆
ZOEY SIDE SLEEPER
Details
A Superior Memory Foam Pillow
The BEST Side-Sleeper available
🏆 BEST CONTOUR 🏆
Details
A Superior Memory Foam Pillow
Conclusion
As occipital neuralgia sufferers know… a flare-up can come out of the blue and be incapacitating. For us, this is still the most frustrating aspect of the condition. We do everything we can to prevent pain, but it still manages to take us by surprise and leave us feeling utterly exasperated. However, having these two simple products helps us put the fire out on the flare-up and get back to some normality as soon as possible. Stay positive folks and good luck.
REF: Massaging over the greater occipital nerve reduces the intensity of migraine attacks:
evidence for inhibitory trigemino-cervical convergence mechanisms
https://pubmed.ncbi.nlm.nih.gov/17876398/
Last prices update on 2023-06-01