Best pillow for neck pain and headaches
If you're anything like us, you've spent years and, very likely, a lot of money searching for the best pillow for neck pain and headaches. With so many different pillows for neck pain on the market, it's a nightmare trying to choose which pillow might be suitable for your neck, your pain, and your sleeping position. One thing we know is that everyone sleeps differently in their own subtle, unique ways. So if we all sleep differently, how do you find the perfect pillow for neck pain and headaches?

The painful answer is, you won't. We learned the hard way that the perfect pillow for neck pain and headaches doesn't exist.

Why is that? Quite simply, because pain isn't perfect. If your neck or nerve pain were in exactly the same place, night after night… you would have a good shot at finding the perfect support pillow. The painful fact is that muscle tension and nerve pain can be very different from one night to the next… so where does that leave us?

The simple and rather elegant answer is to invest in one or two pillows that you can adjust to your neck pain and sleeping position whenever you need to. Gone are the days of buying multiple pillows, only to throw them away disappointed and frustrated. With the best adjustable pillows evolving to a very high standard, you can get very close to having your perfect pillow… every night… it's not just a dream.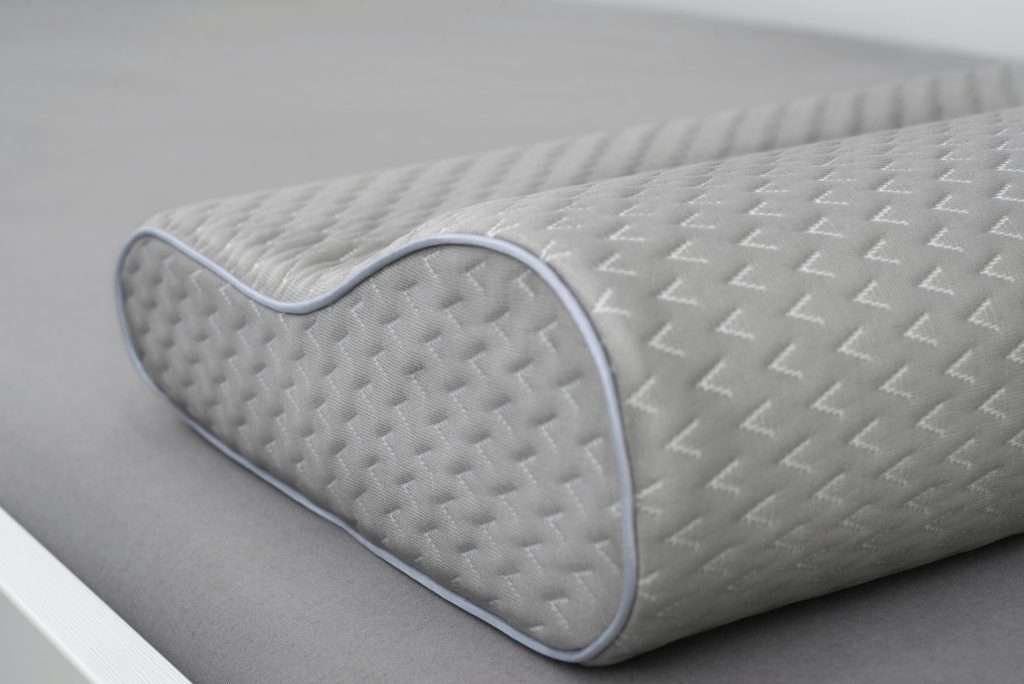 QUICK LOOK: The Best Adjustable Pillows for Neck Pain

Why you should use an Adjustable Memory Foam Pillow​​​​​
Our Top Pillow Picks for Neck Pain
Ubbe Hybrid+ Adjustable Premium Bed Pillow
So, is the Ubbe Hybrid+ Adjustable Premium PIllow as good as it sounds? Well, yes… and then some.
In short, this is an absolutely amazing pillow… and one of those we wish had been around a long time ago.

Its design appears simple, but therein lies its magic… it's effectively two pillows in one. The Ubbe Hybrid+ has an inner section – an adjustable area filled with shredded blue gel memory foam and an outer section filled with soft microfibers. But what does that feel like?

Once you've adjusted the inner loft to suit you… the consensus is it's pretty darn magical. This is the beautiful simplicity of shredded memory foam; you can adjust it whenever you want. Another added bonus of shredded foam is you can nudge it about to suit. For example: Are you a back-sleeper who tilts their head slightly left or right? Well, manipulating some of the memory foam to gently rest your cheek on can feel both supportive and snuggly at the same time, is that not the neck pain relieving nirvana we all strive for? This is, without doubt, one of the best adjustable pillows we've ever encountered.
Zoey Side-Sleeper Adjustable Neck Pillow
Now, if you're a side sleeper, we'll just say this. AMAZzzzZZZzzzing!

This side-sleeper is designed in California by a family who are passionate about pillows, and boy does it show with this wonderfully crafted neck cradler. This pillow is CertiPUR-US and OEKO Certified which means it's one of the highest-rated pillows available in terms of safety. Knowing that every element of this product has been tested (even the thread) provides complete peace of mind. Zoey Sleep has selected and combined bedding industry-leading fabrics to deliver a unique fabric blend that will support you throughout the night and not sacrifice comfort.

Okay, so we know this is one amazingly constructed side-sleeping pillow, but does it deliver what you need it to?

100% Yes. Zoey uses a proprietary shredded memory foam blend that has a wonderful bounce-back. All memory foam bounces back, of course, but not all bounce-backs are equal. This feels soft, plush… AND supportive. The curvature allows you to really settle in on your side, a few pats and pushes of the foam on the fly, and you're sorted for sound side-sleeping night. LOVE it… one of the best adjustable pillows for side-sleepers. Period.
ZAMAT Adjustable Ergonomic Cervical Pillow
A solid memory foam pillow can offer excellent support when you need to cradle your neck a little more to prevent lots of head-turning in the middle of the night. When we're having an occipital neuralgia flareup or having spells of waking dizzy, we use a solid foam pillow with a deep contour. This ZAMAT pillow is a great all-rounder with a medium to soft feel that can be adjusted between two loft levels by removing or adding memory foam inserts. If you're a lower-level sleeper, simply rotate it 360°, and you're good to go.

Made with high-quality memory foam and CertiPUR-US certified, this great pillow is also firm enough to support your neck and shoulders when side-sleeping, back sleeping is a breeze. It's important to mention that as this is solid memory foam, it's not as adjustable in terms of volume as a shredded foam version. We own and use both solid and shredded pillows and interchange them based on how our necks feel. This pillow is a best-seller on amazon with thousands of positive reviews. When thousands of people are singing from the same hymn sheet, we know the product is worth reviewing. And it was. One of the best adjustable pillows in a solid foam.
COOP GREENGUARD Gold Adjustable Pillow
With tens of thousands of amazing reviews, we had to include this incredibly environmentally friendly pillow. The COOP Greenguard Adjustable Pillows are subject to strict, third-party lab testing to ensure they're both CertiPUR-US and GREENGUARD Gold certified. What does this mean? Vegan, cruelty-free with zero harmful chemicals. Environmentally and consciously, this product ticks every box. Brilliant.

Made with proprietary Lulltra fabric, this provides superb breathability and softness, and like all the adjustable pillows featured on this page, it can be tailored to you. This pillow really packs a punch with an additional ½ lb bonus bag of fill with your order. If you're not happy after 100 nights (highly unlikely) you can contact them directly to return the pillow for a full refund, no questions asked. This pillow comes with a huge 5yr guarantee.
BEST SELLING 2 for 1 PILLOWS
If you want two adjustable loft pillows for the price of one, then here's a simple, always up-to-date list of the current best-sellers on amazon that offer exceptional value for money. This data is drawn automatically from amazon, some new products may not yet have reviews.

Conclusion
Pillows are personal. Whether you're suffering from chronic neck pain, occipital neuralgia, tension headaches or simply looking for a fantastic pillow that you can literally make your own, don't sleep on it. Wake up to sleeping on an adjustable pillow and consider pairing it with a daily neck massage prior to going to bed.
---
---
Last prices update on 2023-09-23